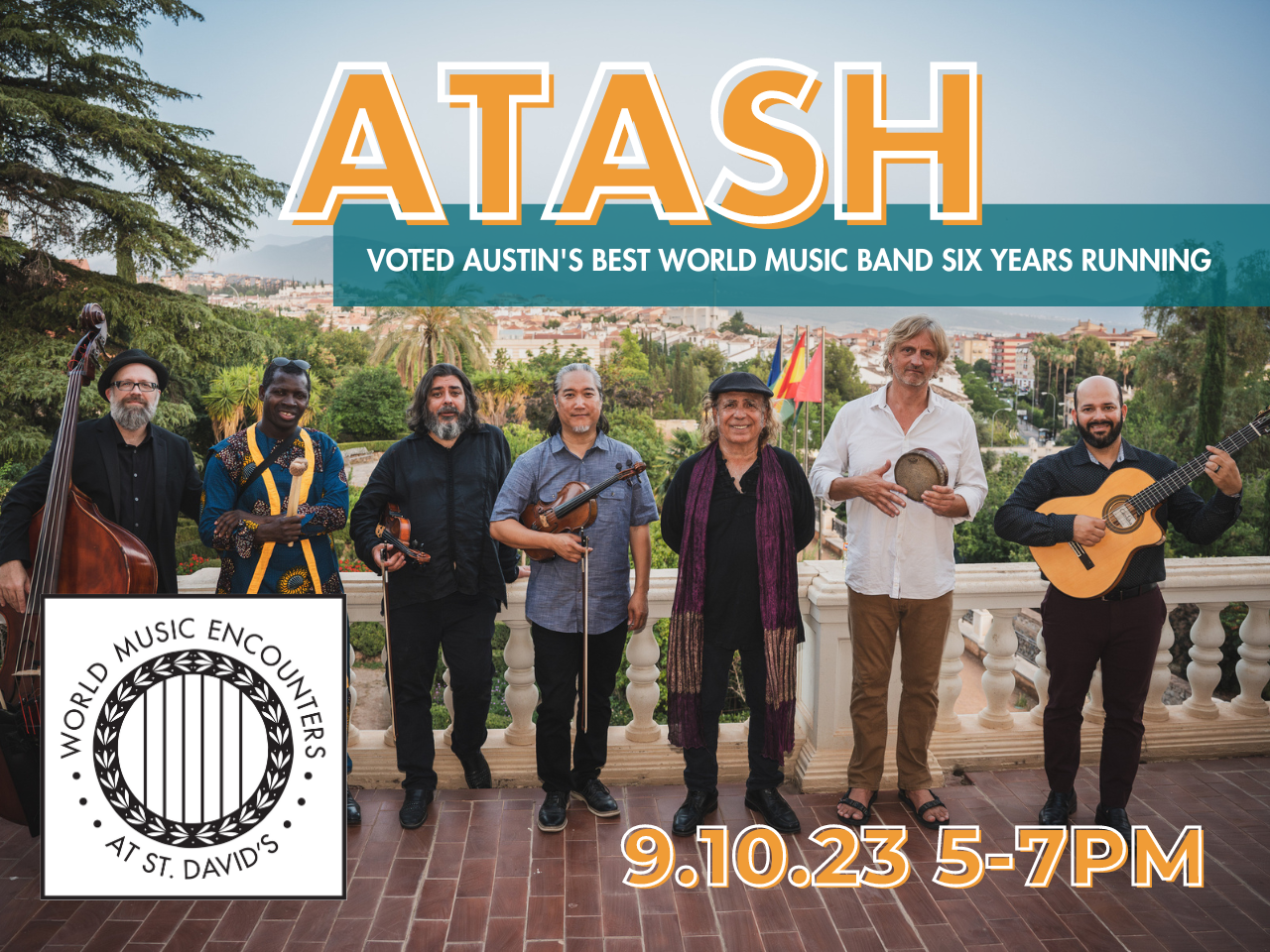 The idea for World Music Encounters at St. David's has been brewing in my head for quite some time. I've lived in Austin for 37 years. I raised three children here. I've played harmonica around town for many years, and I've watched the music scene grow to the point where we aren't just "wanna go home with the Armadillo" anymore. Apologies to Gary P. Nunn.
I also fell in love with international music when I was crisscrossing the globe filing stories for NPR. I learned that the people of some nations beset by armed conflict, dysfunctional governments and extreme poverty produce gorgeous music. Through this series, we want to showcase that.
We want to invite the community to a first-of-its-kind concert series called World Music Encounters. St. David's Episcopal, the historic downtown church, is staging a concert with a different international artist one Sunday evening a month from September to May.
We're calling it World Music Encounters because it's more than a concert. Old habits die hard. I've been a working journalist for 43 years and I love learning peoples' stories. Midway through the performance, I'll join the musicians onstage to interview them about their musical roots and their journey to Austin.
Austin is the nation's tenth largest city. As I began to look around town for bands to book for the series, I discovered that our global musical reputation has attracted professional musicians from around the world. They want to make Austin and its environs their home. They move here to play gigs in our plethora of venues, to make this their home base for touring, to collaborate with other great players, and to perform for audiences that support live music and know good musicianship. So, consider this project a musical gift to the city of Austin, as well as an opportunity to expand our cultural understanding and global consciousness.
Performances will be held in our 170-year-old sanctuary that has just been meticulously renovated. St. David's has long been a sought-after venue for live music concerts in Austin, and it's never looked or sounded better.
Here's what our first season looks like:
Sept. 10 – Atash, Austin's 10-piece global music supergroup. This "world-class Texas world-music band" is composed of master musicians from Asia, Europe, Africa and the Americas. They incorporate elements from Persian, Indian, African, Latin, Western classical, jazz, and Middle Eastern music, creating a unique and eclectic sound. Voted Austin's best world music band six years running.
Oct. 15 – Ana Barajas and Cruz del Sur play original and classic South American folkloric music, fusing contemporary electronic sounds with Andean flutes, charango, Colombian gaita and hand percussion. The musicians hail from Colombia, Bolivia and El Salvador. They will take you on "a mystical and dreamy journey through the sounds of the South American Andes in dialogue with soundscapes from other latitudes."
Nov. 5 – Mahmoud Chouki, a Moroccan master guitarist, multi-instrumentalist and composer currently living and working in New Orleans. Winner of the International Guitar Competition in Spain at age 18, he was recently invited to play at Palais de l'Elysee in Paris with Grammy award-winner Jon Batiste. His music speaks across cultural divides. He's bringing his hot Mediterranean jazz band from NOLA to ATX.
Dec. 10 – Ulla is a quintet comprised of a pair of Irish ex-pats and three virtuosic Austin musicians who celebrate their mutual love of Celtic musical heritage. Andrea Magee (vocals, bodrhan, whistle) grew up in County Antrim singing in a family band. In addition to Ulla, she tours the U.S. and recently released a solo CD, Belfast Girl. Pat Byrne (vocals and guitar) from County Carlow, has been singing professionally since his teens and won the inaugural season of The Irish Voice, Ireland's version of The Voice.
Jan. 7 – Ibrahim Aminou and Seed Africa, traditional West African music from Niger and Ghana played on the 21-string kora.
Feb. 11 – Gabriel Santiago Project, virtuosic Brazilian jazz guitarist
March 3 – Mariachi Las Alteñas, 12-piece, all-female powerhouse mariachi from San Antonio.
April 14 – Sofrito y Su Melao, Cuban and Caribbean hip-shaking music.
May 12 – Oliver Rajamani, blends Indian, Flamenco, Romani and Texas music.
Premium seating – $35 for the front three rows
General seating – $25
Students – $10 (on sale a few days before the concert)
Season tickets (one free ticket): Premium seating $275; General seating $200
Concert times are 5-7 p.m. This is a family-friendly event with free parking in the garage on church property. Our partners are the Downtown Austin Alliance, whose mission is to enhance the vibe, vitality and value of downtown Austin for everyone, and KUT/KUTX.