175th Anniversary Timeline
A committee of St. David's parishioners researched and compiled key events in our 175-year history. Sunday, Oct. 15, committee members unveiled five panels with events spanning from 1848 to the present. These curated events cover three categories: Campus Milestones, Parish Growth and Ministry, and Community Outreach.
Click to view the Timeline Panels.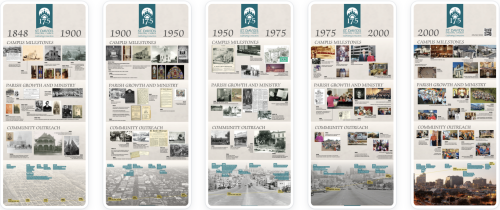 Timeline PHoto Credits
All photos, unless otherwise noted, are from the St. David's Archive.
Panel 1: 1948-1900
Rick Patrick
Austin History Center
View of Austin Capital
Austin Hook & Ladder #1
Salvation Army
All Saints' Chapel
Austin View, 1873
Panel 2: 1900-1950
Rick Patrick
Austin History Center
View of Downtown Austin, date unknown, after 1939
Alice Weber
Rectory and Historic Marker
Episcopal Church of the Good Shepherd
Church of the Good Shepherd
Dedication of the New Church
Panel 3: 1950-1975
Austin History Center
Groundbreaking Ceremony for St. Stephens Episcopal School
View of Austin, 1964
Panel 4: 1975-2000
Rick Patrick
Austin History Center
Panel 5: 2000-
Rick Patrick