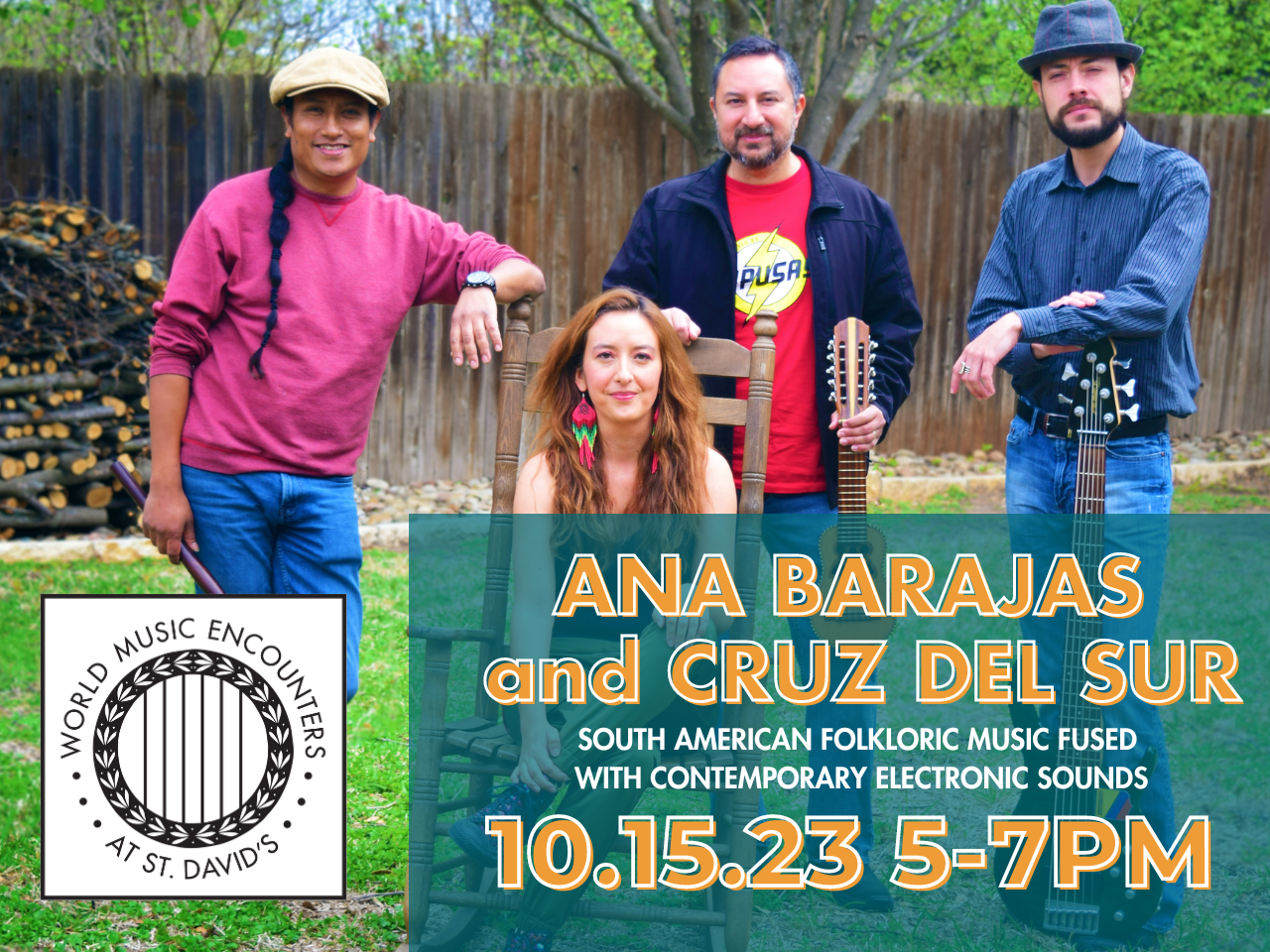 Premium seating – $35 for the front three rows
General seating – $25
Students – $10 (on sale a few days before the concert)
St. David's Episcopal Church is privileged to feature one of America's foremost contemporary South American ensembles, Ana Barajas and Cruz del Sur, on Sunday, Oct. 15. As the Southern Cross constellation has historically served as a navigation guide for travelers in the Southern hemisphere, the musical group of the same name guides us from the past of traditional Andean music into the future.
Cruz del Sur fuses traditional instruments such as flute, gaita, charango, cuatro and hand percussion with electronic sounds and electric guitar. The result is, in Ana's words, "a mystical and dreamy journey through the sounds of the South American Andes in dialogue with soundscapes from other latitudes."
The leader, vocalist/songwriter Ana Barajas learned traditional Colombian music growing up in Bogotá and went on to join her city's raucous metal scene. In Austin since 2011, she recorded her debut album, La Botánica de los Sueños, in 2018 and continues to collaborate with artists in genres as varied as jazz, electronica, metal and folk.
Her bandmates have taken their traditional instruments from Latin America and, with Ana, created a fresh approach to folkloric music. They are Eduardo Cassapia, oboe and flute, from Bolivia; Mauricio Callejas, string instruments, from El Salvador; and Andres Acevedo, bass.
WORLD MUSIC ENCOUNTERS AT ST. DAVID'S is a groundbreaking concert series staged in our historic, acoustically-divine sanctuary that spotlights a different global artist one Sunday evening a month from September to May. We're calling it World Music Encounters because it's more than a concert. Old habits die hard. I've been a working journalist for 43 years and I love learning peoples' stories. Midway through the performance, I'll join the musicians onstage to interview them about their musical roots and their journey to Austin.
The idea for the music series emerged as I was retiring from NPR in January 2023 after 36 years as a roving correspondent. Wherever I was assigned—Haiti, Colombia, the Democratic Republic of Congo, Somalia, Togo—I learned that nations beset by armed conflict, dysfunctional governments and extreme poverty produce can gorgeous music. It is also a truism that music is the international language that anyone can enjoy whether or not they speak the language—and I don't speak Haitian creole, Arabic or French.
At the same time, as a longtime Austinite (and avid harmonica player) I've watched the music scene grow from the "home of the Armadillo" to a mecca for international musicians. Austin has become—and I still can't believe this—the nation's tenth largest city. As I began to look around town for bands to book, I was astonished at the wealth of global talent we have in 512. They're moving here from around the world to play gigs, to use as a home base for touring, to collaborate with other great players, and to perform for audiences that get out and support live music.
World Music Encounters is a musical gift to the city of Austin, as well as an opportunity to expand our cultural understanding and global consciousness. And a way to discover great new bands! All of the income from ticket sales and sponsorships go to the musicians and the church production staff.
Our inaugural concert on Sept. 10, with Austin's world music supergroup, Atash, sold out. The performance was rapturous and the audience spellbound.
Here's what the rest of the 2023-24 season looks like:
Oct. 15 – Ana Barajas and Cruz del Sur 
Nov. 5 – Mahmoud Chouki, Moroccan master guitarist, oud player, and composer currently living and working in New Orleans. Winner of the International Guitar Competition in Spain at age 18, he was recently invited to play at Palais de l'Elysee in Paris with Grammy award-winner Jon Batiste. He's a fixture at New Orleans' jazz headquarters, Snug Harbor. He's bringing his hot Mediterranean jazz band from NOLA to ATX.
Dec. 10 – Ulla is a quintet comprised of a pair of Irish ex-pats and three virtuosic Austin musicians who celebrate their mutual love of Celtic musical heritage. Andrea Magee (vocals, bodrhan, whistle) grew up in County Antrim singing in a family band. In addition to Ulla, she tours the U.S. and recently released a solo CD, Belfast Girl. Pat Byrne (vocals and guitar) from County Carlow, has been singing professionally since his teens and won the inaugural season of The Irish Voice, Ireland's version of The Voice.
Jan. 7 – Ibrahim Aminou and Seed Africa, traditional West African music from Niger, Ghana and Guinea played on the 21-string kora and balaphone (a sort-of traditional xylophone).
Feb. 11 – Gabriel Santiago Project, virtuosic Brazilian jazz guitarist, with a doctorate from UT in guitar, recently moved from Austin to Denver. His regular shows at the Elephant Room were legendary. He'll have a fantastic Brazilian jazz band that includes the renowned pianist, Rique Pantoja.
March 3 – Mariachi Las Alteñas, 12-piece, all-female powerhouse mariachi from San Antonio.
April 14 – Sofrito y Su Melao, Cuban and Caribbean hip-shaking music.
May 12 – Oliver Rajamani, blends Indian, Flamenco, Romani and Texas music.         
Premium seating – $35 for the front three rows
General seating – $25
Students – $10 (on sale a few days before the concert)
Concert times are 5-7 p.m. This is a family-friendly event with free parking in the church's multi-story garage. Our partners are KUTX and the Downtown Austin Alliance, whose mission is to enhance the vibe, vitality and value of downtown Austin for everyone.