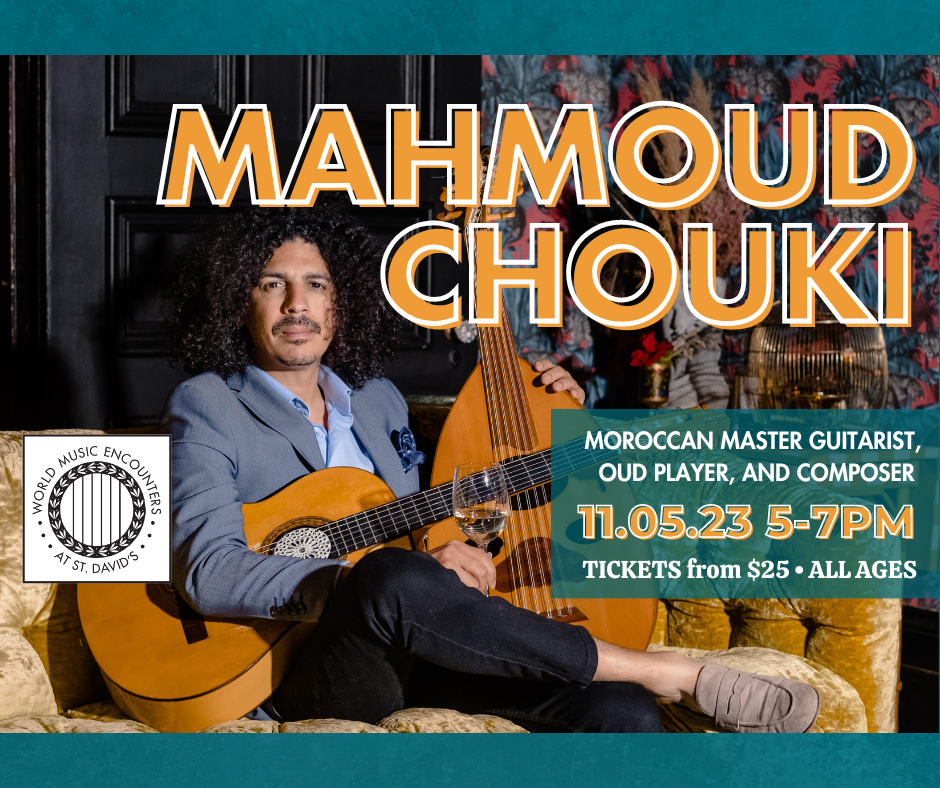 Tickets on sale now
You've never heard or seen anyone like Mahmoud Chouki.
"Mood" is a master of the Spanish guitar and the oud, an 11-string fretless instrument similar to a lute. He plays Andalusian music that combines the haunting tonality of Arab music with the flamenco flavor of Spanish gypsy guitar, performed over a New Orleans backbeat.
He's a popular headliner in his adopted home of New Orleans. In his first trip to Texas, he'll be playing 5pm Sunday, Nov. 5 at St. David's Episcopal Church in downtown Austin.
Chouki began his training at the National Music Conservatories of Larache and Rabat, and went on to win first place in an international Spanish guitar competition at age 18. He teaches music at the Lycée Francais de la Nouvelle Orléans and is consulting curator of performances at the New Orleans Museum of Art. He is a regular performer at NOLA's premiere jazz venue, Snug Harbor, and performed this year at the Jazz & Heritage Festival. He composed the music score for the 2021 Sundance Award-winning film, Ma Belle, Ma Beauty. He recently won "Best Emerging Artist" and "Best World Music Artist" awards from two local music publications there in the birthplace of jazz. Over the summer, Chouki was invited to play at the Palais de l'Elysee in Paris to perform alongside multiple-Grammy-winner and NOLA native Jon Batiste.
He will be joined onstage at World Music Encounters by the Cuban-born pianist Victor Campbell, bassist Noah Young and drummer Terrence Houston. This is a hot band.
I first saw "Mood" at Snug Harbor and was captivated by his other-worldly, soulful, masterfully played compositions and his charismatic stage presence. As soon as we created World Music Encounters, I knew I had to invite Mood to come and play for Austin.
World Music Encounters at St. David's is a groundbreaking concert series staged in our historic, acoustically-divine sanctuary that spotlights a different global artist one Sunday evening a month from September to May. We're calling it World Music Encounters because it's more than a concert. As a recently retired journalist of 43 years, I'll join the musicians mid-performance to ask them about their musical roots and their journey to Austin.
The idea for the music series emerged as I was retiring from NPR in January 2023 after 36 years as a roving correspondent for the network. Wherever I was assigned—Haiti, Colombia, the Democratic Republic of Congo, Somalia, Togo—I observed that nations beset by armed conflict, dysfunctional governments and extreme poverty can produce gorgeous music. It is also a truism that music is the international language that anyone can enjoy.
As a longtime Austinite (and avid harmonica player) I've watched the music scene grow from the "home of the Armadillo" to become a mecca for international musicians. Austin has grown into—and I still can't believe this—the nation's tenth largest city. As I began to look around town for bands to book, I was astonished at the wealth of global talent we have in 512. They're moving here from around the world to play gigs, to use as a home base for touring, to collaborate with other great players, and to perform for audiences that get out and support live music.
World Music Encounters is a musical gift to the city of Austin, an opportunity to expand our cultural understanding, and a way to discover great new bands! All of the income from ticket sales and sponsorships go to the musicians and the church production staff.
Here's what the rest of the 2023-24 season looks like:
Dec. 10 – Ulla is a quintet comprised of a pair of Irish ex-pats and three virtuosic Austin musicians who celebrate their mutual love of Celtic musical heritage. Andrea Magee (vocals, bodrhan, whistle) grew up in County Antrim singing in a family band. In addition to Ulla, she tours the U.S. and recently released a solo CD, Belfast Girl. Pat Byrne (vocals and guitar) from County Carlow, has been singing professionally since his teens and won the inaugural season of The Irish Voice, Ireland's version of The Voice.
Jan. 7 – Ibrahim Aminou and Seed Africa, traditional West African music from Niger, Ghana and Guinea played on the 21-string kora and balaphone (a sort-of traditional xylophone).
Feb. 11 – Gabriel Santiago Project, virtuosic Brazilian jazz guitarist, with a doctorate from UT in guitar, recently moved from Austin to Denver. His regular shows at the Elephant Room were legendary. He'll have a fantastic Brazilian jazz band that includes the renowned pianist, Rique Pantoja.
March 3 – Mariachi Las Alteñas, 12-piece, all-female powerhouse mariachi from San Antonio.
April 14 – Sofrito y Su Melao, Cuban and Caribbean hip-shaking music.
May 12 – Oliver Rajamani, blends Indian, Flamenco, Romani and Texas music.
Premium seating – $35 for the front three rows
General seating – $25
Students – $10 (on sale a few days before the concert)
Concert times are 5-7 p.m. This is a family-friendly event with free parking in the church's multi-story garage. Our partners are KUTX and the Downtown Austin Alliance, whose mission is to enhance the vibe, vitality and value of downtown Austin for everyone.