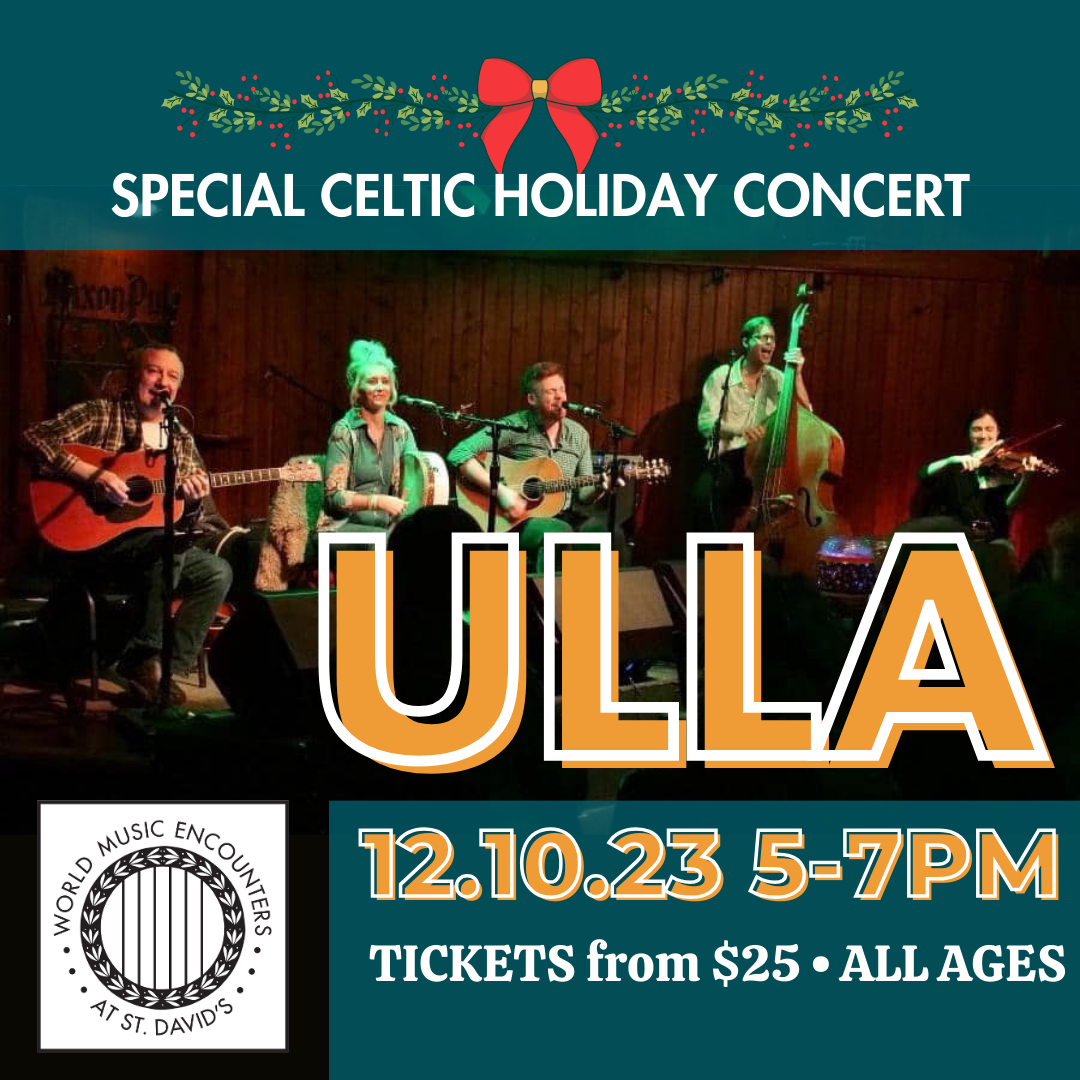 SATURDAY, DEC. 10
5-7 p.m., All-ages holiday show
Free on-site garage parking for concert

Ulla came together organically via shared connections in the Austin music scene. All full-time musicians, Ulla comprises a pair of Irish expats joined with several trad-Celtic music fans to form a collective that shares and celebrates a mutual love of Celtic musical heritage.
Pat Byrne (vocals and guitar), from Borris, County Carlow, has been singing professionally since his teen years. He moved to Austin to work on writing and to form a band to play original music. Pat is a tremendous vocal talent with a repertoire forged in the Fleadh Ceols of his homeland. An all-Ireland céilí drummer in his youth, Pat moved to guitar and discovered his true talent as a singer. Pat was the winner of the inaugural season of The Irish Voice.
Andrea Magee (vocals, bodhran, whistle), from Belfast, County Antrim, grew up singing in a family band, learning traditional songs from her father and sisters as a teen. Nowadays, in addition to Ulla, she performs with Beat Root Revival, a duo that has toured the country and earned a string of awards and accolades. Andrea is also building a name as a solo performer, with her most recent CD, Belfast Girl, exploring her early life in Northern Ireland.
Rich Brotherton (vocals, guitar, cittern), grew up playing music in Augusta, Georgia. After college he spent two summers in Doolin, County Clare, soaking up traditional reels, jigs and songs. He later moved to Texas to further his music career. After years with the Robert Earl Keen band. Rich now works as the proprietor of Ace Recording, a cozy, well-appointed studio in south Austin, in addition to performing with all sorts of musical pals in the Austin area.
Kris Wade (bass, vocals), from Houston, Texas, has played every style of music the Austin scene offers. From swing (Marshall Ford Swing Band) to blues (Guy Forsyth) to pop (Pat Byrne) to country (Emily Gimble) to jazz (Sarah Sharp), and now Irish folk with Ulla, Kris has the bottom end covered with style and taste.
Maddy Brotherton (fiddle) grew up playing classical violin. In college she was instrumental in organizing a fiddle club, and began playing traditional tunes. Soon after came a trip to London and study with noted trad player Pete Cooper. When lockdown required isolation, she began playing live streams with Rich, her father, leading to a seat on stage as Ulla's newest member.
After honing their music and their show with a residency at Austin's renowned live music bastion, the Saxon Pub, Ulla are delighted to be making waves and garnering attention in the national Celtic scene. They've played festivals from Dallas to Jackson to Milwaukee. And they're looking forward to a wonderful evening as part of St. David's world music concert series.