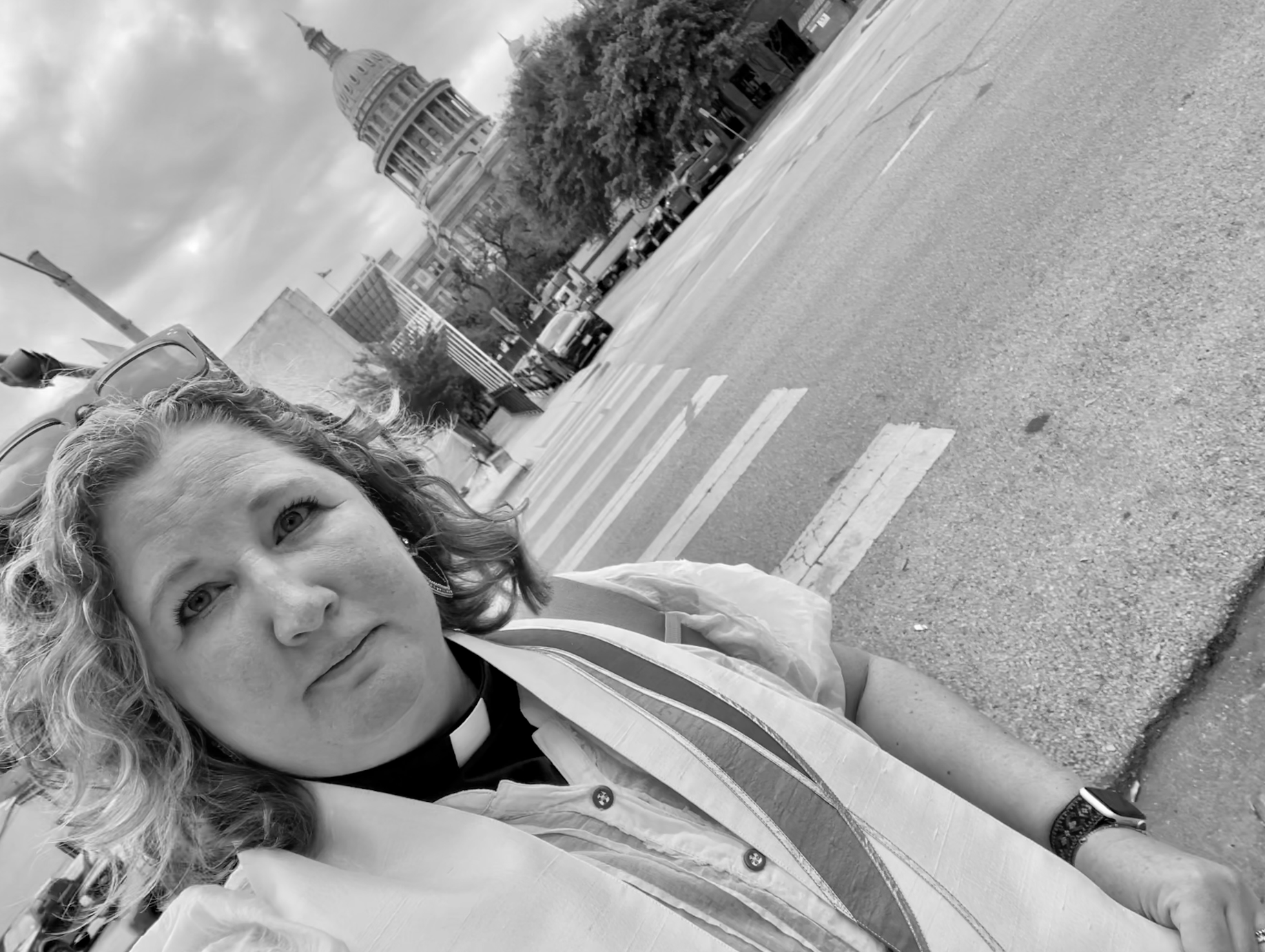 In this 88th session, there have been several rallies at the State Capitol to elevate the voices of the queer community as they express opposition to a host of bills that seek to block medical treatments for trans youth. This would make Texas inhospitable for anyone who is in transition, and very risky for their families. This will clear Texas of many who are utilizing gender-affirming care. People in Texas would be required to travel in order to have access to the life-giving treatments that allow them to live the lives they have discerned with the help of their care teams, their families, and God.
The Committee on Public Health heard from witnesses for and against HB1686 for two days. Hours of testimony were given by invited experts, each of them asked the same set of questions by the author of the bill. "What is a woman?" and "Can a man have a baby?" Every witness was pressed for information and opinions. There were witnesses called from out of state, who labeled themselves "de-transitioners," speaking against hormones and surgeries, their stories unfolding as trauma. There were many more witnesses present who could speak as passionately in favor of such treatments. The hearing felt calculated because none of the typical order was followed. Of the more than 850 people who signed up to testify, a very small percentage were heard.
I have learned from the queer community that this is the way things have been in recent sessions. Even so, it is devastating to see justice usurped in this way. It feels as though our loved ones are being discounted, their lives invalided by people who don't understand who they are. Trans youth would not be allowed the same treatments that someone with another medical situation, like precocious puberty, can have. Despite all of the deep work transitioning youth have done with their care teams to establish a path that identifies and glorifies the people that God knit them each to be, it seems that the very expression of who they are is not acceptable to some, who are working hard to block their unique expression. The decision to transition is not taken lightly, and in young people, transitioning is a process that is carried out slowly, over years, and with great care and planning. To assume otherwise is not accurate.
There are 141 anti-trans bills in the state Legislature right now (groups like Equality Texas and Texas Impact are working to bring awareness and ease to the process of speaking to each of them, if you need a quick primer). Because of the broad sweep of these bills, our families who have kids in transition are beginning to make plans to leave the state. They have become worried about sharing personal information, lest they are found and questioned about their decisions. They are worried about losing their kids if state laws are passed that render these life-saving treatments prosecutable under state law. Trans families currently face choosing between the well-being of their children and the homes and communities that support them.
It is important to note that the judgments being issued in these bills is counter to the standard of care for gender dysphoria, as established by the medical community. Parents would be placing their children at much higher risk of suicide simply because our legislators believe they know better than thee therapists and physicians who have helped these families to discern the paths and lives they are meant to live out.
I waited more than 13 hours to bear witness to what I know to be the truth set forth by The Episcopal Church, that every child should have just and equitable access to all the care that can be provided to them by the medical community. I did not get to do so. However, Bishop Ryan testified asking that SB14 be set aside for the sake of our siblings in Christ.
Despite our efforts, this bill was passed by the Senate along with two others. One would ban drag shows in places where children may be present (which would fine the business up to $10,000) and banning drag queen story hour (which would strip the hosting library of state funding). These bills serve to disenfranchise a group of people who glorify God's creativity by sharing their joy and love in our community. The gallery was packed with people in drag who looked bewildered and hurt by these actions, and I will not forget the experience any time soon.
There are many in our congregation who are woven into Austin's queer community. We want you to know that we are standing with you. We will bear witness to the glory and beauty of the lives that you have built for yourselves, and to the important part you play in our community. We are yours and you are ours. We will do everything we can to support you. To that end, please reach out and tell us how we can help, where you need us to be. We will show up for you, and we will speak truth to power. We have engaged in advocacy at every level. We will leverage every connection we have to make sure that your wisdom and experience are heard. We love you, and we see God at work in your lives.
Thank you for being our people, and for showing us all of the ways that we, as people, can express the beauty that God created within us. We are deeply grateful for you.
St. David's is playing an integral part in engaging our diocesan churches at the downtown, city, and state levels, and getting Episcopal people to the Capitol to speak to their congresspeople during this session. If you would like to join us at the Capitol, or engage in any of our advocacy work, please reach out by joining our advocacy ministry group using the button link below, or reach out by email. We need all the voices we can get.
In the article above, the Rev. Kristin Braun referenced her advocacy work in coordination with the Health and Justice Advocacy Network (HJAN), an ad hoc group of the Diocese of Texas.